We all get our homes messy from time to time. Sometimes there are clothes lying all over the floor, a locker stuffed with little trinkets and odd-ends that you don't really know where to put, or maybe menu cards from Punjab Palace (there's got to be someplace like that) and coupons scattered over the dining table, acting as pseudo-dining mats at dinnertime.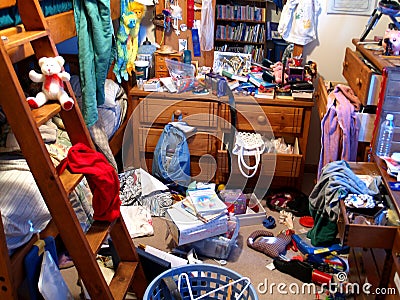 It's completely natural to want to put off cleaning and organizing, because let's face it – it's boring, time-consuming, and tedious. We'd rather lie back and sip on our coffees, hoping for a wand to wave all our messes into place. It's also natural to misplace and leave around stuff, and everybody does it. But if you want to find your stuff faster, and keep your house tidier, we have some great home organization tips to sort you out. Don't be worried; these tips are fun to follow, and so creative that you'll find yourself profusely shaking our virtual hand in thanks. A lot of these tips are DIY (do it yourself), so you can definitely be involved in your home improvement project and also brag about it whenever guests are over. They're not hard at all, so don't be afraid to try them. Some of them need some craftsmanship work, but it's something even the galli ka bachcha can handle. If DIY tips are not for you, don't worry, you'll find some neat tricks and hints too that you don't need to make any significant efforts for.
1) Make your very own storage compartments! Well, we're not asking you to go all out and carve shelves, but if you're looking for a classy, rustic-looking, and spacious solution, just use these handy things you have at home.

Baskets. Yep! Whether you have an empty basket that someone gave you a gift hamper just lying around the house, or a wooden box that you don't use anymore, simply nail these to your walls for that extra storage. Use five to six nails so you can be sure that it won't fall on someone's head when they're using the toilet, because that will not be pleasant. Believe us. You can store towels, clothes, light books, extra cushions, and so much more in these. And don't forget, it's crazy how good looking these are.
2) Don't be clumsy with important stuff. And don't lose it either, by just keeping a bowl or tray on the cabinet, shoe rack, shelf, or whatever holding surface you have near your main door, where you can put your keys, wallet, important cards, earphones, glasses, spare change, and other stuff that you can easily grab on your way out, and easily store on your way in.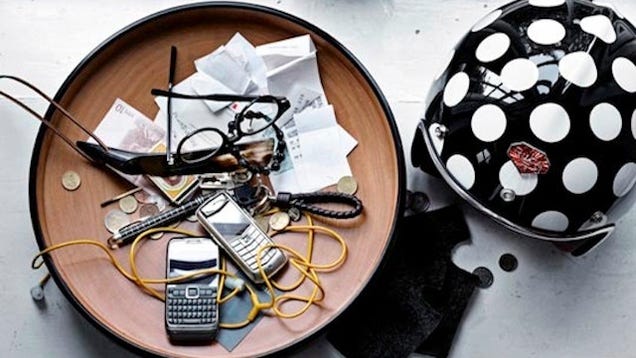 These hold-alls, usually called "vide-poches" which is French for "empty pockets", are neat tools to make sure that you don't misplace the stuff you need everyday. And if you're worried about all the people that enter your home and who may commit theft, keep it all accounted for, and with a fancy lid on top.
3) You have shoes. Shoes have shoeboxes. And shoeboxes have so much more potential than they're given credit for. Use an old or unnecessary shoebox to compartmentalize and simplify all your drawer problems.
Cut a shoebox in half (or your desired size) length wise or breadth wise, and show everyone your Tetris skills by neatly arranging these blocks in your drawer. Label each compartment with a simple sketch pen-paper pair, fasten them securely to the inside of the drawer using glue strips, good cello tape (those two-sided ones), or Velcro pads, and there you have it! Your jumbled items are now all neatly compartmentalized so your search frenzy becomes well, not a search frenzy.
You can also just use readymade plastic boxes or wooden boxes to fill up and compartmentalize that drawer. Anything's cool!
4) Another neat DIY solution you could find useful is using cereal boxes or envelope racks to store those annoying pamphlets, menu cards (remember Punjab Palace?), business cards, receipts, bills, letters, and all other things paper. How?
All you'll need is an empty cereal box, a ruler, a sketch pen, and scissors. ("That's it?" you ask. We smile smugly and say yes.)
Mark a straight or curved line with your sketch pen and ruler or by freehand, diagonally, over the whole box, keeping the line height on the larger two sides equal so it looks symmetrical, if that's what you want to go for. Keep a length of at least 3.5 inches from the bottom at the lowest sketch pen mark. Cut throughout this line. And voila! You have your own paper holder that you can just put anywhere, or cut a hole in the top of and hang, or stick to your wall.

If you want to make it more aesthetic, use fabric/wrapping paper and glue to cover it, and just cut out the parts that don't need to be covered by the material.
Too complicated? Make an envelope holder, made out of (obviously) envelopes. Click the image to know how it's done.
5) DIY stuff too hard to make? Or maybe you're feeling lazy like us? Have no fear, the world of readymade items is here! Get a jewellery box, or a watch case or roll to store your jewellery and watches in, preferably a classy one that acts as both a home décor piece and something that effectively sorts out all your accessories. It helps in preventing tangling and mixing up issues, and compartmentalizes your accessories. Like what you see below? Get it here.


6) Label and mark EVERYTHING. Whether it's files, folders, accessory boxes, tins, baskets, cords, anything you might get mixed up about or misplace. You could use some cool designs on your labels or tags, coloured post-its, or a fancy font to make your labels more creative. This helps a lot, especially when you're in a rush and have to find your charger, or a particular necklace, and it's tangled up somewhere amidst a lot of other stuff.
7) This one requires some work, but the end result will have you wondering why you haven't done this before. Use shoe racks or open shelf cabinets on top of your work desk to give you extra space for all your stationary, lamps, books, files, and other odds and ends you want to keep on your work desk. Go upwards instead of frontwards, you'll save so much space. Now your work area won't be crowded and annoying to look at. (Plus think of all the space!)
8) This one's really cool. So this is how it works – Arrange all your clothes on hangers in your closet, but place the hangers backwards, with the hook end facing you. When you wear something and it comes back from cleaning, put it on the hanger and place it normally (This happens quite automatically.) After a year or so, check which hangers still face you. Donate or discard these clothes, because you obviously haven't thought of wearing them even once in a year. This way, you get rid of the extra stuff, and save space! By donating these clothes, you also help someone else out. It's a win-win.
If you have shelves instead of hangers, just compartmentalize into used and unused.
9) All our moms do this. (Speaking of mums, Mother's Day is today. Happy Mother's Day!) Anyway, you probably have had this experience – you're doing rounds of the kitchen, looking (unsuccessfully) for snacks, when you suddenly spot that large purple tin of Danish cookies. Eyes glued, you drift off towards it, and open it with high expectation of delicious, sugary cookies inside. Your face falls as you see it's full of sewing needles and threads, buttons and ribbons. Your mom's been at it again.
Well, we could all take a leaf out of our mums' books, and use our old or unused tins, boxes, jars, and cans as storage items. A little bit of fabric, ribbons, or paint – and you have an artsy container to store all your little things around the house that don't really have a home.
10) Another handy tip is to store your bedsheets inside pillowcases. Just fold your sheets neatly, slip them inside their matching pillowcases, and line them all up neatly on your cabinet shelf to become complete packages that are easy to take out and unpack, and easy on the eyes too.
We at GoGappa hope that these tips help your home organization problems, keep better track of your stuff, and be more creative with your home storage, so it can transform into home décor. So don't mislead your children with purple biscuit tins (because it's cruel), and creatively disguise the tins to look like you've bought them at a department store. Learn to love your space!
Images lovingly sourced from :
1) http://www.dreamstime.com/royalty-free-stock-photo-messy-bedroom-image871785
2) http://modernbathroomreviews.com/bathroom-storage-organization/baskets-as-bathroom-storage-hit-or-miss/
3) http://lifehacker.com/5890455/add-a-vide-poche-next-to-your-door-to-avoid-clutter-around-the-house
4) http://www.realsimple.com/home-organizing/organizing/diy-drawer-dividers-00100000085439/index.html
5) http://preciseisnice.blogspot.in/2012/09/cereal-box-makeover-mail-holder.html
6) http://www.scjohnson.com/en/family/family-economics/09-12-31/Envelope-Organizer.aspx
7) This one's ours!
8) http://secondgradesweets.blogspot.in/2012/05/organization-classroom-tour.html
9) http://www.buzzfeed.com/peggy/clever-organizing-tips-to-rein-in-the-chaos
10) http://beautifymylifeblog.com/2014/01/the-backwards-hanger-project/
11) http://www.buzzfeed.com/peggy/52-totally-feasible-ways-to-organize-your-entire-h
12) http://www.lovelyish.com/2012/04/03/why-didnt-i-think-of-that-9-ways-to-organize-your-life/